The China International Fair for Trade in Services (CIFTIS) opened on September 2, 2023, with the launch of the exclusive "North Star + CIFTIS" service.
The China International Fair for Trade in Services (CIFTIS) commenced on September 2, 2023. This significant event encompasses six primary activities, namely the Global Trade in Service Summit, exhibitions, forums, business promotion and negotiation, results release, and supporting activities to showcase and foster international achievements and technological advancements. The Beijing Capital Group Exhibitions & Events, having taken responsibility for CIFTIS for the third consecutive year, has diligently coordinated operations, enhanced services, and emphasized quality and efficiency to ensure a seamless presentation of CIFTIS.

Services: The "1+8" model continues to improve the exhibition experience.
As a long-standing organizer of CIFTIS, the Beijing Capital Group Exhibitions & Events remains dedicated to its mission and diligently utilizes its own strengths to continually enhance the marketization, professionalization, and internationalization of CIFTIS. This includes various aspects such as investment promotion, market development, publicity and promotion, professional visitor recruitment, and service operation guarantee.
With regard to investment promotion, the Beijing Capital Group Exhibitions & Events has achieved great success in executing the "1+4" special exhibition. This annual comprehensive exhibition encompasses various industries, including telecommunications, computer and information services, supply chain and business services, engineering consulting and construction services, and environmental services. Through this strategic approach, the company has established a comprehensive industry chain that fosters the construction of an international and innovative communication platform for facilitating international service trade transactions.
In terms of service operation guarantee, Beijing Capital Group Exhibitions & Events adopts the "1+8" model for service operation. We continuously optimize the service operation guarantee plan based on previous sessions. The company carefully formulates relevant plans and emergency response plans for every process and prepares materials, such as the Investment Promotion Publicity Manual, Venue Operation Plan Manual, Exhibition Construction Manual, and Visitor Guide, with a global perspective and attention to detail. By upholding the service concept of pursuing excellence, the company is dedicated to providing an exclusive "North Star + CIFTIS" service to ensure an upgraded level of operation guarantee.
Beijing Capital Group Exhibitions & Events has not only ensured the success of the China Beijing International Fair for Trade in Services but also taken on the responsibility of hosting CIFTIS. The company has improved its deployment mechanism and established a comprehensive set of plan deployments, encompassing plan formulation, operation planning, and liaison mechanism, emergency response plan. These plans cover all aspects of exhibition service operation, ensuring a seamless and efficient process.
With respect to personnel structure, the company has established an organizational hierarchy, ensuring efficient division of labor and clear allocation of responsibilities. This vertical management mechanism enables quicker problem-solving capabilities. Moreover, the events company has set up dedicated operation teams in both the China National Convention Center and Shougang Park to jointly deliver on-site operation services.
It is proud to highlight that in order to provide seamless North Star Service, Beijing North Star has mobilized 23 affiliated companies to actively support the CIFTIS. Nearly 300 employees were assigned to various tasks, including comprehensive coordination of CIFTIS, exhibition management, service guarantee, online platform construction, conference forums, and publicity liaison.
Drawing on extensive experiences in service guaranteeing, The Beijing Capital Group Exhibitions & Events has optimized the queuing efficiency of 400 customer service hotlines, ensuring prompt assistance for exhibitors and visitors. The company has also increased the number of backup lines for telephone networks during peak periods and reserved additional accesses for English and other foreign language support.
Safety: "Seamless Passage" + "Four-Level Curator" Ensures Smoothness
Safety is always given the highest priority in all aspects of service guarantee work. The primary focus is to ensure the safe and stable operation of CIFTIS 2023. To achieve this, the Beijing Capital Group Exhibitions & Events' operation guarantee team is jointly working with security authorities both at the municipal level and district level. The company has implemented a range of measures to strengthen emergency safety management. These measures include the installation of multiple signs, such as the Ten Prohibitions and the Three Fire Prompts, within the venue. The event organizer has also designated special personnel for on-site inspections at specific times, establishing a comprehensive safety guarantee linkage system.
When it comes to managing the flow of visitors and vehicles within the venue, the company has added additional traffic guidance at major intersections and provided conference guidance and inquiry services to exhibitors and guests, ensuring a smooth and orderly flow of people and vehicles during the exhibition. Through meticulous planning of vehicle and pedestrian routes, as well as the extension of volunteer service points, the company achieved seamless passage between the China National Convention Center (Phase I) and the National Stadium. By combining the unique industrial characteristics of Shougang Park, Beijing Capital Group Exhibitions & Events has planned different group visitor flow lines to achieve a perfect integration of industrial heritage and modern exhibition.
In each exhibition hall within Shougang Park, the company has implemented a four-level curator safety management system. The main responsibility for safety management lies with the exhibitor recruiters, the Beijing Capital Group Exhibitions & Events, the main service provider of the venue, and the designated curators assigned to each exhibition. Together, they supervise, coordinate, and solve any on-site emergencies to ensure the safe and orderly operation of the exhibition.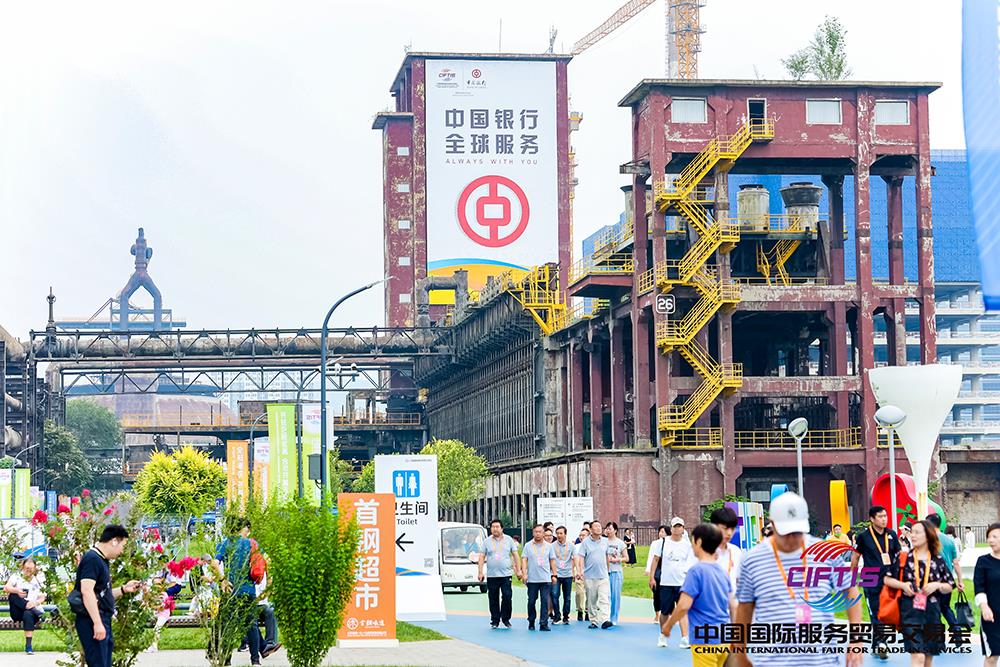 In the interactive experience areas, the Beijing Capital Group Exhibitions & Events has set up measures this year to assist exhibitors in assessing and ensuring the safety of their use of space. The company conducts multiple tests to ensure the on-site network and electricity are smooth and safe.
Online: 13 module developments improves user experience
To better achieve the never-ending CIFTIS this year, the digital platform is continuously improving and upgrading to enhance the user experience for exhibitors, visitors, and platform managers. Currently, a total of 13 functional modules have been developed and upgraded.
As for exhibitors, there are more extensive exhibitor display methods. Various flat booth exhibits with a richer number of list styles from different companies have been added. Additionally, a high-quality enterprise exclusive badge has been introduced to draw more attention to high-quality enterprises among exhibitors. The supply-demand matching function has also been further optimized, forming a normalized information release and content update mechanism to provide smoother services and facilitate exchange and information sharing between supply and demand sides.
From the perspective of visitors, handling tickets and certificates through the digital platform has been further improved. In the 2023 digital platform, additional channels such as APP and mini-program ticket purchase options have been added. At the same time, the certificate system architecture and business process system have been reorganized and the submission of fixed information has been simplified. Additionally, user-friendly photo processing tools have been provided for special handling of person-certificate mismatches. Users now have the flexibility to configure whether to opt for a unified collection or other convenient options.
Currently, the CIFTIS official website, application, and mini-program are updated daily with comprehensive content. As of August 31, the official website's monthly page views have reached 6.1 million.
CIFTIS 2023 is in full swing, offering endless exhibitions, conventions, and negotiations. Beijing Capital Group Exhibitions & Events is fully committed to serving guests from all directions with a high level of professionalism and showcasing the infinite brilliance of service trade.