Qingdao International Convention Center successfully guaranteed the third Qingdao Summit of Multinational corporation Leaders
Qingdao International Convention Center successfully guaranteed the third Qingdao Summit of Multinational corporation Leaders
On June 21, the third Qingdao Summit of Multinational Corporation leaders was successfully concluded in Qingdao International Convention Center, the entrusted venue of Capital Exhibition group. The summit will host 41 events in 14 categories, 35 of which will be held during the summit. Leaders from 186 Fortune 500 companies and 290 industry leaders gathered together, with more than 5,600 attendees online and offline.
This year's summit is an important international conference held against the backdrop of the epidemic. On the basis of reviewing past service experience, the venue has continued to upgrade its service standards, and all its work has been detailed, solid and strict.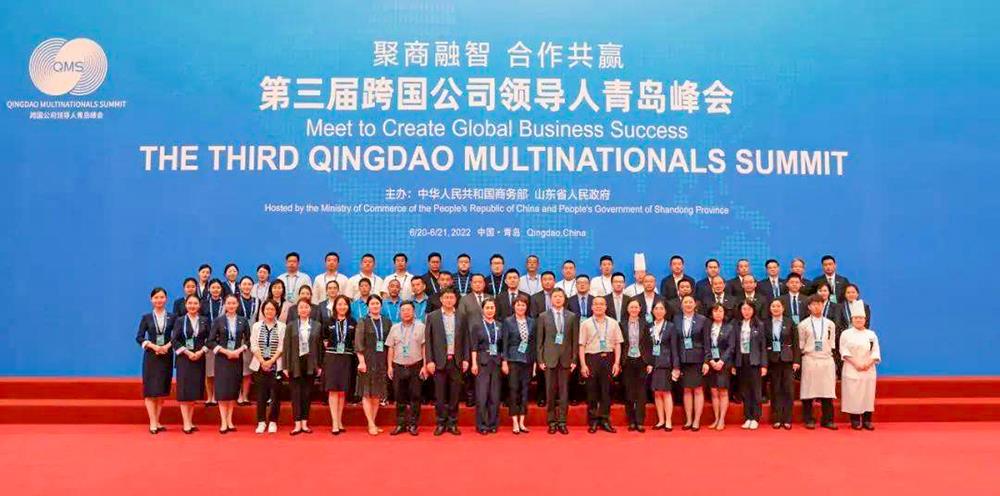 Before the summit, the venue team held daily scheduling meetings, worked out various service plans, and divided tasks from epidemic prevention and control, venue services, reception etiquette, security, facilities and equipment to ensure smooth and orderly progress throughout the summit. During the summit, the team responded to the requirements of the meeting at any time, actively responded to the challenges of frequent transition, and turned over the platform for more than 50 times, demonstrating good emergency handling ability and a high sense of teamwork. At the same time, the venue attaches great importance to epidemic prevention and control, setting up nucleic acid testing area for personnel, and setting up non-inductive infrared thermometer at the entrance to monitor health status at all times. Ensure adequate supply of masks, hand sanitizer and other epidemic prevention materials; Keep machine room and elevator bridge car disinfected daily; Intelligent robots are used to sterilize and clean the venue without dead spots, providing a safe and assured environment for the participants.
Another highlight of the summit was the exhibition on Multinational corporations and China at the Maritime Banquet Hall. As the first open-air theme exhibition in China, the exhibition covers an area of about 10,000 square meters and is planned as an indoor exhibition area and an outdoor exhibition area. Relying on the diverse hardware facilities and business capabilities of Qingdao International Convention Center, it will display shandong's achievements in the transformation of old and new driving forces, its industrial advantages and development opportunities, its new achievements in opening up to the outside world, realize the positive interaction between conferences and exhibitions, and further empower the effect of the summit.
The summit media Center was also operated by the conference Center team. Through coordination with the scenic spot Group and full scheduling, good results were achieved. Journalists praised the thoughtful service and beautiful environment of the conference Center frequently. The venue has worked hard to complete all the service and guarantee work, truly achieving the plan of work organization, epidemic prevention and security measures, the atmosphere of the environment, and the warmth of the conference service, once again burnishing the golden card of Qingdao International Convention Center "City living room".